Three years ago Faith Granger set out on the ultimate adventure. An impossible feat: to make a two hour period drama, entirely by herself and without a budget. She had never been to film school, had no background in film, and owned no gear. One thing she did have: VEGAS Pro software.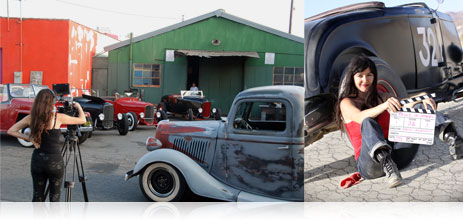 After purchasing a 1932 Roadster in 2006, Faith made a humble homemade video showing the car in action, a video to be displayed next to the "Deuce" at a prominent car show. She had never edited before, but the ease VEGAS Pro allowed her to edit the one hour homemade documentary opened her eyes to the fact that with this technology, anyone could edit a film at home, on their PC. And so VEGAS Pro planted the seed of a bigger idea with Faith: Why not make a period hot rod feature film? She could write it, cast it, direct it, DP it, film it herself, and rally all her hot rod friends to get cars, props and period correct locations. As a newly-minted independent filmmaker, she would retain control over the film throughout production by editing it at home with VEGAS Pro.
VEGAS Pro and the Deuce inspired Faith Granger to create "DEUCE OF SPADES." "I set out on this insane adventure with the bold courage only the naive possess," she writes. "Most pros would have simply said: 'Nope! Can't be done! I wouldn't even attempt it.' But I, knowing nothing at all, embarked on this three year journey in an ultimate leap of faith. And came out at the other end with a gorgeous feature that continues to baffle all the pros: 'How did she do it?'"
"A lot of hard work, a lot of Faith, a little luck, and VEGAS Pro!" – Faith Granger
"VEGAS Pro was there for me, allowing me to edit my footage as I filmed it, with ease and precision, do my preliminary color correction, create my beginning credits, perform some CGI clean ups, create my credit roll… in short, everything I needed from A to Z. I oftentimes had as many as 5 projects opened concurrently and VEGAS Pro took the abuse and kept performing for me. When time came to mix some of my scoring, I found myself going back to VEGAS Pro to fine-tune. I saved an incredible amount of money using VEGAS Pro software.
"Everyone is complimenting me on the artistic look of my film. It was easy with the many VEGAS Pro tools to create layers, slow motion, manipulate opacity, velocity, color to create that very special mood. I now find myself a full-fledged filmmaker; I've earned the respect of my peers, I've been on the cover of many magazines, the focus of a television documentary… everywhere I go, it seems people are talking about 'DEUCE OF SPADES.'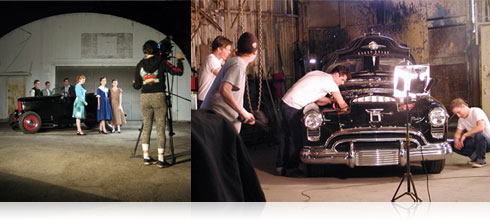 "Thank you VEGAS Pro for giving me no excuse to not go for it and allowing me to discover and unleash this very special gift hiding inside me."
To take a ride with the "Deuce of Spades," visit www.deuceofspadesmovie.com