Local TV news tends to stay local more for lack of budget than interest in faraway stories of concern to viewers. But this past March, Christopher Heath of KWTX Waco, Texas and David Nancarrow of KKTV Colorado Springs, Colorado were able to spend a month reporting daily from Iraq with the help of innovative production techniques and technology including VEGAS software.
"We had to put together a very efficient operation and being able to get up-to-speed on VEGAS fast was crucial." said Heath. "After a four hour tutorial and practicing on the long flight over, we were able to bring back soldier's stories that would not be told otherwise."
Follow the Beat
Heath had regularly covered Fort Hood as part of his beat in Central Texas. When the 4th Infantry Division stationed there got orders to deploy to Iraq, he was invited to come along. The challenge for his station was making this practical given the constraints of local TV news budgets. A traditional field crew consisting of reporter, camera operator and video editor would break the budget. Could a single reporter succeed with a "one man band" approach?
As it happens, Heath would not have to go it alone for what became Assignment Iraq. The 4th ID is divided up between Fort Hood and Fort Carson in Colorado. Gray Television, KWTX's parent company, also owns KKTV, a sister station that serves viewers in the Fort Carson area. Taking a reporter from each station would create an effective team and broaden the potential audience. Heath and Nancarrow could trade off duties behind and in front of the camera to create separate stories for their viewers. Then, the reporters would individually craft these on a laptop running VEGAS software. While this sounded fine in theory, putting it into practice depended on their ability to master both videography and VEGAS editing on short notice.
We had to put together a very efficient operation and being able to get up-to-speed on VEGAS fast was crucial. After a four hour tutorial and practicing on the long flight over, we were able to bring back soldier's stories that would not be told otherwise. – Christopher Heath, KWTX
The gear selected for the trip needed to be light and small, easy to operate and able to deliver cost-effective high quality imaging. Also, they would have to buy two complete sets of whatever production setup they selected. Having redundant systems was the only insurance against the uncertainties about how equipm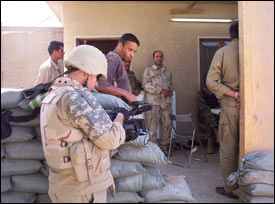 ent would hold up in the sand and dust of Iraq. Each reporter would also be equipped with a full set of body armor.
The Sony HVR-Z1U HDV camcorder was the perfect match for size, weight, and point-and-shoot operation to deliver broadcast quality footage. While the camcorder gives expert camera operators full manual controls to set white balance, exposure and focus, Heath and Nancarrow relied on the automatic settings to yield excellent results. Combined with the Z1U's small size, they were able to work effectively and unobtrusively in a combat zone to capture a real sense of what life is like for soldiers stationed there.
"It had be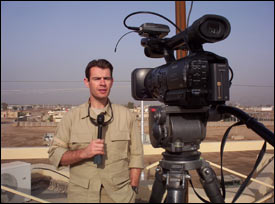 en five years since I'd done any shooting so I was a real novice when I got my hands on the Z1U," said Nancarrow. "It was completely user-friendly freeing us to focus on getting the stories instead of worrying about the tech details."
Despite the adverse conditions, the primary Z1U operated flawlessly and the backup unit stayed safe in its case.
Chase to the Cut with VEGAS
Heath and Nancarrow's task was to deliver daily features that would be sent back over the military's DVIDS (Digital Video and Imagery Distribution System) satellite uplink to their home stations. Through DVIDS, the reporters could also appear live on camera to provide "wrappers" for the pieces. A typical day was spent out with the troops and then back to camp at night to edit the material on VEGAS software loaded into a laptop.
For expert editors, crafting intriguing footage into two-minute news cuts is quick work. But Heath and Nancarrow were at the novice level. KWTX has long used Vegas software for fieldwork and the reporters received their hands-on primer with the staff expert to get them ready. They reinforced what they learned by practicing on the long flight over. By the time they landed, they were set to hit the ground running with the troops. Over their month-long trip, each reporter filed close to thirty stories.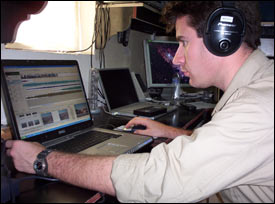 "At first, I was intimidated at the idea of having to do my own editing, but was pleasantly surprised at how easy it was for me to pick up VEGAS. I had the basics down immediately and was soon focused on improving my storytelling with it," said Nancarrow.
According to Heath, developing a core production methodology allowed them to quickly move from raw footage to finished pieces ready for air. The capabilities of VEGAS were more than a match for their needs. Three audio tracks covered location sound, interviews and voiceover. Video clips were layered in as needed. As their proficiency increased with use, the time needed to turn a "package" dropped from an hour to 30 minutes.
"I've just scratched the surface of the capabilities of VEGAS, and can see that you can do most anything you can imagine with it," said Heath. "But what really impressed me is how fast I was able to get up-to-speed."