Based on community feedback, we are proud to now offer an affordable way to enter into editing with VEGAS Pro without purchasing the perpetual license. "With VEGAS Pro 365, we want to make it easier for aspiring video creators and enthusiasts to access professional video and audio production software. With flexible terms and additional services, we seek to fulfill a long-standing demand of our VEGAS Pro fan base" says Gary Rebholz, Product Owner.
VEGAS Pro 365 is a first-of-its-kind subscription-based-offering of VEGAS Pro. This version offers a complete video and audio editing solution with all the features of VEGAS Pro 15 and SOUND FORGE Audio Studio 12, along with online training courses to learn VEGAS Pro.
Who can benefit from VEGAS Pro 365?
The exciting addition of VEGAS Pro in a subscription option opens the doors for all types of VEGAS enthusiasts to take advantage of all of the strengths of the software.
For first-time users, this bundle means directly entering the world of professional editing with an entire audio and video editing suite and online training courses to help with what otherwise might feel like a steep learning curve. In one 3 month subscription, you can quickly and easily introduce yourself to the world of editing, learn your way around non-linear editing (NLE) software, and complete your first projects with an affordable investment. Aspiring YouTube artists and gamers can use this powerful toolset for particularly demanding projects exactly when you need it with the benefit of upgrades and updates to the latest versions, and all for around the monthly price of your internet connection.
VEGAS enthusiasts will enjoy that VEGAS Pro 365 ensures that you are always up to date and can enhance your already extensive VEGAS toolset with the addition of SOUND FORGE Audio Studio, as well as the included high-end 3rd-party plug-ins.
For video editing professionals, the VEGAS Pro 365 bundle offers you a complete professional package for any project that demands the power of VEGAS Pro. Whether at home, in the studio, or on location, you have an all-in-one video editing solution optimized for any profesional project.
What advantages does the subscription offer?
We've focused on community feedback to develop this software offering – in addition to the perpetual licenses for VEGAS Pro 15 Edit, VEGAS Pro 15, and VEGAS Pro 15 Suite. "We will continue to offer and update perpetual licenses of VEGAS Pro. What we want is an additional complete package customized to the needs of first-time users." says Rebholz.
The VEGAS Pro 365 package includes all the latest features of VEGAS Pro with high-end plug-ins and online training courses to learn to use VEGAS Pro. Users now also have full access to SOUND FORGE Audio Studio to add high-quality sound production to their projects. Video projects can be edited offline within the subscription just like with the perpetual license. Projects also remain fully intact after the subscription expires. This means that if you need to edit the project again in the future, you can restart your subscription, or use a perpetual version of VEGAS Pro to open the project and pick up where you left off. With your subscription, all components of the package stay up-to-date with the latest feature and product updates.
If you prefer a subscription-based license of VEGAS Pro, there are two options available to you: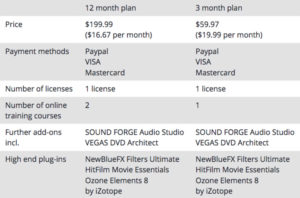 The offer of VEGAS Pro 365 – in addition to VEGAS Pro 15 Edit, VEGAS Pro 15, and VEGAS Pro 15 Suite – now makes the software even more accessible for all VEGAS Pro enthusiasts.